The VLP is pleased to announce the August V.I.V. – Very Important Volunteer is Joshua Huber.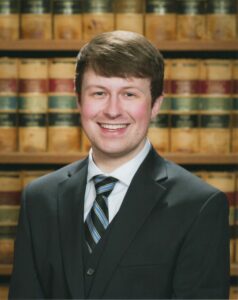 Joshua has been volunteering with the VLP since entering the legal profession. Almost every week, he supports VLP clients through remote family law clinics. When asked why he volunteers his time, he remarked that, "I think it is very important to give back to the community the skills and knowledge that [we attorneys] learn in law school."
Originally from Colfax, Washington, Mr. Huber attended the University of Idaho College of Law from 2017-2020 where he obtained his Juris Doctor. After becoming licensed as an attorney in the state of Washington in July of 2020, he joined Baumgarten Law Offices in Pullman, Washington where he currently practices.
Regarding his relationship with the VLP, Joshua gave high praise. "The reason why I recommend volunteering with the VLP is because they are very professional and efficient. You don't need to put aside too much of your time to help people. When it's done, it's done." Joshua also appreciates how, through the VLP, he can 'drop in' and completely change someone's day. "Even though these phone calls might not be a significant part of my day, I can still leave a huge impact on [the client's] day."
Joshua also had some tips for other attorneys who are interested in volunteering. "It is really important to read the notes about the case before you call. Don't wing it. It is best to know what you are getting into before starting." He also offered, "I start all my calls asking if it is a good time to call." He pointed out how intuitive it really is: by asking a client if it's a good time to chat, you can get more out of the interaction. The call is guaranteed to go better because they'll be in the right state of mind to discuss their situation.
A special thanks to Joshua for your support for VLP clients. The VLP appreciates your volunteering efforts!