August V.I.V – Carolynn Imes
The VLP is ecstatic to recognize Carolynn Imes as this month's as the V.I.V. – Very Important Volunteer.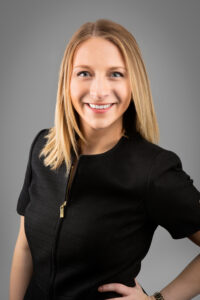 Short Bio:  I am a lawyer at the Law Office of Paul B. Mack, where I exclusively practice family law.  I was born and raised in Spokane, graduated from Eastern Washington University, and studied law under the Washington State Bar Association APR 6 Law Clerk Program.  I have worked in family law for approximately 14 years, first in a support role and now as a licensed attorney.
Why do you volunteer?  First, lawyers have a professional responsibility to assist in the provision of legal services to the indigent community.  Second, having acquired a legal education without the student loans that ordinarily accompany a traditional law school experience, I feel a responsibly to pay it forward.  Volunteering is not an option for many young lawyers because they have student loans to service.  I am not similarly constrained.  Additionally, I have the support of an employer with a long history of serving the community.  So, in other words, I volunteer simply because I can and should.
What's your favorite part about volunteering?  Certainly, it is gratifying to help others navigate the legal system, but …. I also just really enjoy interacting with other members of the bar, court staff, and the bench.
What has your experience with the VLP been like?  The VLP has been wonderful to work with.  More importantly, in my experience, they are a compassionate, patient, and knowledgeable group of people reaching into the community to do good work day in and day out.
Do you have any tips for new volunteers? I will second the advice of another regular volunteer: just jump in.  It is possible it is just my competitive spirit talking, but I think the challenge of having to learn something new on the fly can be fun.  On a more practical note, I would suggest new volunteers brush up on minor guardianship if they are not already familiar with that area of law.
Why would you recommend volunteering with the VLP?  There are a lot of reasons why I would recommend volunteering with the VLP.  As this query & answer are truly aimed at prospective volunteers reading the Calendar Call, I instead ask them: why not volunteer?