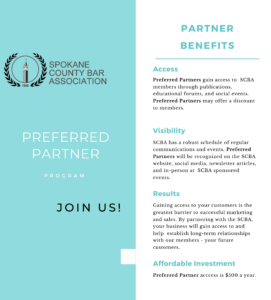 Join the SCBA as a Preferred Partner.  Preferred Partners offer business supports to the SCBA membership.  Perks of Preferred Partners include:
Subscription to the association newsletter, Calendar Call.
Access to advertise in Calendar Call and SCBA website at $125 per half page.
Submission of one industry-related article for the Calendar Call Limited to 250 words.
Ongoing invitations to attend– socials, fundraisers, educational programs.
Preferred Partner logos, hyperlink, and member discounts posted on the SCBA website.
One premium ticket to the epic SCBA holiday party.
50% discount for sponsorships and exhibits.
These benefits will allow our Preferred Partners to actively engage with SCBA members via in-person events, educational programming, and through collateral materials such as the association newsletter, articles, website, and member email announcements.
Preferred Partner enrollment is good for one year, September 1 – August 31 of each year.  Sign up today to get started.
You can may your payment online at here.  In the Invoice # field, please type PREFERRED PARTNER.
CURRENT PREFERRED PARTNERS