• Short Bio: Where did you go to law school, What's your firm?, How long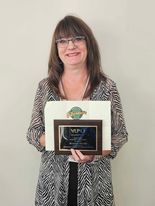 have you been practicing law? My "law school" was the Limited License Legal Technician program. The Family Law curriculum was from the University of Washington Law School and was administered through Whatcom Community College. Classes were online, and I was part of the final cohort of the LLLT program after the Supreme Court sunsetted the program. There are less than 100 LLLTs in the entire state of Washington, and there are only 10 of us in Spokane County. I started my own firm in October, 2021, and it is called Lilac City Legal Technician Services, or LCLTS. I have kept my "day job" as a probate and estate planning Paralegal with Richard Gilleran. Rich has been so supportive of me getting my LLLT license and also with volunteering on Thursdays with the court. I've got the best of both worlds! I've been in the legal profession for, cough cough, a few years now, and let's just say it's been a long run, and I'm not looking at hanging up my hat any time soon! I've worked for some amazing people over the years, and I have learned from the best. I'm grateful for the opportunities that I have been given and the friends I have made along the way.
• Why do you volunteer? I volunteer for a lot of reason. I sit in Ex Parte and watch and listen to the commissioners. They are so patient and respectful to the many unrepresented people, but unfortunately, the Pro Se party still doesn't understand the process even after a commissioner explains how things work. By volunteering, it's a way, even if it's a small way, to help people get through this complicated process. Status conferences are no exception to this. Many people need help. By volunteering at a legal clinic, a status conference, or as part of the many other opportunities through the VLP, the Maxey Law Center, or other clinics, it truly does make a difference to those who can't afford the services of a lawyer.
• What's your favorite part about volunteering? Many times people come into a status conference so scared. I've found if you take the time to listen and help them, they are truly thankful, and that is very satisfying knowing you made a difference. I've met a lot of people during volunteering and I've developed some great working relationships and friendships along the way. And helping clear cases off of the judge's case load is very satisfying because often times a case is finalized at a status conference. I think the Judge's like that part the most since it helps keep their dockets flowing.
• What's your experience with the VLP been like? I love the VLP! The people who are part of the staff are great, and they go out of their way to make the volunteer's job easier and fun! They all have the heart to help people, and it shows when they speak to the Pro- Ses and to those of us who volunteer. It's obvious they like their jobs, and it's great to be around people like that!
• Do you have any tips for new volunteers? What are they? My advise would be to jump in! Ask questions of other volunteers if you aren't sure of the answers. The "seasoned" volunteers are really helpful to new volunteers and are willing to answer questions. Don't be afraid to just do it. There is a huge need for legal volunteers, and this is a great way to help. There's plenty of opportunities to help, too, and not just with the status conferences on Thursdays. Plus, did I mention that the staff with the VLP are awesome?
• Why would you recommend volunteering with the VLP? There are so many people who need help and just don't know where to go. This is a great way be involved. It's a way to help someone who doesn't know what to do, where to turn, or to help someone who can't afford the services of a lawyer. At the end of the day, it's kind of my way to say thank you to those who have helped me along the way since I've been blessed to have had such amazing mentors and a wonderful career in the legal field.
From the VLP: Andren has been a longstanding and dedicated volunteer within the VLP program and regularly attends our weekly Status Conferences, Events and Clinics. To show our gratitude for Andren's continued support she is receiving a plaque from the VLP and our community sponsor Shawn O'Donnell's Restaurant has donated a dinner for two. Thank you Andren!!