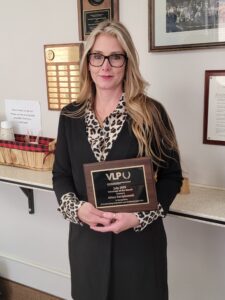 The Spokane County Bar Volunteer Lawyers Program would like to announce July 2023 Very Important Volunteer Alissa Raczykowski!!
A little about Alissa:
Where did you go to law school? What's your firm? How long have you been practicing law?
I have a BA in business management from EWU, a MA in organizational leadership with an emphasis on servant leadership and resiliency from Gonzaga and am a graduate of the Law Clerk Program. I was a good fit for that program because I became a lawyer later in life. Also, I already owed Gonzaga a lot of money. This is my second professional career. In my first career, I was a VP and then president in the corporate world. My position was eliminated as a result of the mortgage meltdown and a subsequent corporate acquisition and merger. I found myself unemployed mid-fast-track career course with a newly self-employed husband and two small children in club soccer, which is basically a second mortgage payment. My firm does real estate work. I've also worked in escrow, title insurance, and wholesale lending. Overall, I've been in the real estate industry in some fashion since Grunge music.
Why do you volunteer? What's your favorite part about volunteering?
Volunteering is a great way to get exposure to and experience in an area of law you might not otherwise practice in. And it can be a good fit with work you already do. My firm does transactional real estate. Volunteering for unlawful detainer matters fit well with an area of law I already have extensive experience in, but it was work I had never done before. It broadened my practice area, and most importantly for me, helped me get some courtroom experience since our firm rarely litigates. The thing I like the most about volunteering is that it is instant gratification with limited scope but large impact. My second favorite thing about volunteering is the opportunity it gives me to interact with other legal professionals. I love to observe others in action and learn from everyone's unique style and flair.
What's your experience with the VLP been like?
Five stars, highly recommend.
Do you have any tips for new volunteers? What are they?
Always have something in your life that terrifies you a little. Showing up is the hardest part, the rest is just adventure and good stories later. Also, it's okay to show the JA you are a complete idiot. Most of the time they will gently guide you. Or reprimand you. Both are helpful.
Why would you recommend volunteering with the VLP?
It's a great way to go outside your comfort zone, learn new skills, meet people, and make a difference in someone's life, even for a small moment.
Thank you Alissa for all of your work with the VLP this year!